Certificate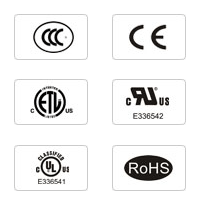 FAQ
1) What are the best selling products in
Ashinelight
?
- Led strip lights
- Led Auto Lights
2) What is the main market for
Ashinelight
?
We are selling more to EU, North America and South America. because the markets have high quality standard for LED products. The rate stands our turnover up to 70-80%.
But other new markets are increasing demand of the new LED technology. We are also optimistic about the markets for Asian regions.

3) What LEDs do you usually use for your LED products?
For high power LED lights we mainly use Cree and Osram LEDs.
About SMD leds, we mainly use Epistar from Taiwan and San'an from China.

4) What is
Ashinelight
lead time?
Usually we ship orders in 1 weeks. But it will take a little longer if with heavy burden of production task. It also takes more time with customized products.

5) Can
Ashinelight
do custom assembly or offer OEM product?
Ashinelight
has gained a lot of experience on OEM assembly of LED lights. The Led Lights can have different size, layout, customer logos and labels. . We will strictly follow the principal that we won't disclose or sell customer unique designs or jointly developed products to another third party.

6) Do you have warranty for products?
Yes, we have 2 to 5 years warranty for different kinds of products. During the period, if customers have the approval showing product quality issues and if certified by
Ashinelight
engineers, we would request customers to ship back the failure parts and replace new items with the transportation charged being paid by us.

7) How to buy Ashinelight products?
In most case we sell directly to customers worldwide, however we have already set up distribution partners in those countries. For the details please refer to "Contact Us".
Customers in these countries can get
Ashinelight
products from the authorized distributors. In other countries and regions customers can directly contact
Ashinelight
sales team by writing to info@ashinelight.com or make a call. We will respond with quick service maximum within 12 hours.