Certificate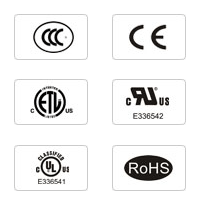 Warranty
The"Warranty Period"will begin at the date of original Product purchase from either Ashinelight, or an authorized Ashinelight Distributor/Dealer. Ashinelight will repair or replace product covered under this warranty . Advances in technology may lead to "better or advanced"products being selected for replacement.

This Warranty is further conditioned on the purchaser contacting Ashinelight during the warranty period between normal business hours to review the issue and initiate the Returned Merchandise Authorization (RMA) process. This must be done prior to the return of any defective product. Only Ashinelight manufactured products may be returned through the Ashinelight RMA process.The Ashinelight RMA form must be legible and completed in detail prior to approval for return. The Ashinelight Warranty is further conditioned and will only apply to Ashinelight products that are properly installed. This includes wiring and connection to proper approved components and product working environments. This Warranty is void and does not apply to products that fail as a result of neglect, mistake, misuse, alteration, improper installation or imple-mentation. This includes but is not limited to: improper wiring, installation under improper and nonapproved operating environments such as temperature, humidity or voltage conditions; improper installation using components that are not approved or are not Ashinelight manufactured products.

Installation and usage of Ashinelight products should only be completed in association and complete knowledge of all necessary and related codes, standards and instructions of installation. It is the responsibility of the purchaser to obtain all necessary approvals and to understand the product's intended use and all relevant instructions, recommendations, and guidelines for the proper installation, use of any Ashinelight product and related "manufactured products," used in conjunction with . The accuracy and completeness of any statements,technical information and recommendations in any form of product literature or instructions are not guaranteed, are not part of this Warranty, and does not in any way constitute a warranty.The purchaser is responsible for suitability of installation and full implementation and must determine potential applications and installations independently.

Warranty Compensation will be based on"usage factors and time in use" and"Technology Value,"and will be pro-rated based on this and information collected via the RMA process.